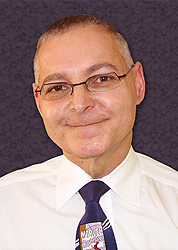 Irving Haber
Doctor of Osteopathy, Medical Director

"I believe in providing quick, nonsurgical relief not just for a patient's specific injury or illness, but for the whole patient. I believe in getting to know the patient and developing an understanding of his or her needs and lifestyle. Only then can we as physical medicine and rehabilitation specialists provide all the art, science, training and skill at our disposal for the best possible results."
How my comprehensive continuing education works for you
"My education and training, including numerous continuing-education courses, have helped me stay informed on the latest developments in my field, with special emphasis on spinal conditions, back and neck care and osteoarthritis. This means I can give you state-of-the-art, comprehensive care to get you back to your daily activities sooner."
Diplomate:

American Board of Physical Medicine & Rehabilitation, American Osteopathic Board of Physical Medicine & Rehabilitation, Association of Academic Physiatrists, Clinical Electromedical Research Academy

Fellow:

American Academy of Physical Medicine & Rehabilitation, American Academy of Disability Evaluating Physicians

Residency:

Physical Medicine & Rehabilitation, University of Medicine & Dentistry of New Jersey/Kessler Institute, West Orange, NJ

D.O.:

Nova Southeastern University

Licensed:

States of Indiana & Illinois
Sharing expertise with other members of the physical therapy community
"I work very hard to stay at the leading edge of physical medicine and rehabilitation. I want Therapy Alternatives Rehab Services to be recognized as the place to come in Terre Haute for the most current care. That's why it is doubly rewarding to be in the position not only to be able to provide information and help to patients, but also to be the choice of other doctors, their patients and their families."
Chronic knee pain:

Indiana University School of Medicine, University of Medicine & Dentistry of New Jersey/Kessler Institute

Physician Reviewer:

Health Care Excel Center for Medicare PRO Operations, Terre Haute, IN

Professional Affiliation:

Dr. Ken Brandt, who is nationally renowned for his recognition of using Tylenol® to treat arthritis, Indiana School of Medicine

Hospital Affiliations:

Clay County Hospital, Sullivan County Hospital, Columbia Terre Haute Regional Hospital, West Central Community Hospital, Union Hospital, HealthSouth Rehabilitation Hospital
Sharing knowledge with other healthcare professionals
"I enjoy meeting with other physical medicine and rehabilitation professionals and being able to pass along information that will be valuable when treating their own patients. I have a practice that values education, and I take great pride in being able to educate patients and fellow doctors alike."
Member:

American Medical Association, American Osteopathic Association, Arthritis Foundation, Indiana State Medical Association, Indiana Society of Physical Medicine & Rehabilitation, National Osteoporosis Foundation